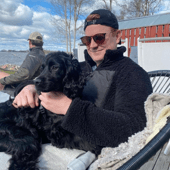 Carl Lindqvist
Account Executive – Sales & Growth
He/His 🏳️‍🌈
🌿 If you had to describe Worldfavor in one word, what would it be?
Family

🧐 Something we don't know about you?
You can find me on IMDB listed as an Actor...  😁 LOL

😍 What do you love the most about your job? 
Meeting new people at various companies understanding their sustainability journey and how we can support them!